Fiber optic equipment has revolutionized the telecommunications industry by providing fast, reliable, and secure data transmission. It has quickly become the backbone of modern communication networks, allowing for high-speed internet, clear voice calls, and seamless video streaming. This article will explore the various types of fiber optic equipment and their applications.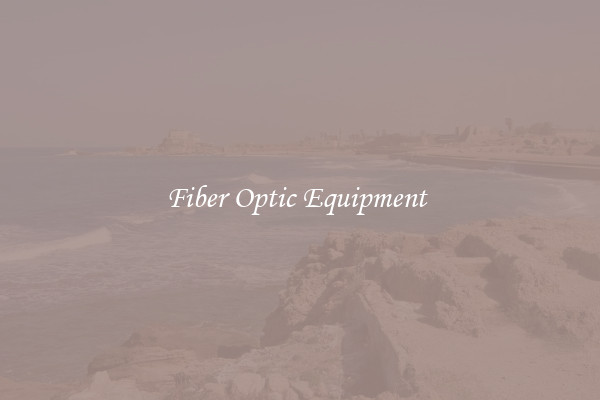 One of the key components of any fiber optic network is the fiber optic cable. These cables consist of thin strands of glass or plastic that carry data in the form of light pulses. The cable is designed to minimize signal loss and distortion, ensuring that data can be transmitted over long distances without degradation. Fiber optic cables are also immune to electromagnetic interference, making them suitable for use in areas with high levels of electrical noise.
Another critical piece of fiber optic equipment is the optical transceiver. This device acts as both a transmitter and a receiver, converting electrical signals into light waves for transmission and vice versa. Optical transceivers come in various form factors, including SFP, QSFP, and XFP, to accommodate different network requirements. They can be used in routers, switches, servers, and other network devices to establish a fiber optic connection.
To further enhance the performance and reliability of fiber optic networks, other equipment such as media converters and multiplexers are utilized. Media converters enable the seamless integration of fiber optic and traditional copper-based networks. They convert electrical signals to light waves for transmission over fiber optic cables and vice versa. Multiplexers, on the other hand, allow multiple signals to be combined and transmitted over a single fiber optic cable, optimizing the use of network resources.
Fiber optic network testing equipment is also crucial for troubleshooting and maintaining the integrity of fiber optic networks. These tools include optical power meters, light sources, and OTDRs (Optical Time Domain Reflectometers). Optical power meters measure the power level of the light signal being transmitted through the fiber optic cable, ensuring that it falls within the required range. Light sources generate light signals for optical loss measurements and network testing. OTDRs are used to measure the length of the fiber optic cable and detect any faults or attenuations along its length.
In conclusion, fiber optic equipment plays a pivotal role in modern communication networks, allowing for high-speed data transmission, clear voice calls, and seamless video streaming. From cables and transceivers to media converters and testing equipment, each component serves a specific purpose in ensuring the efficiency and reliability of fiber optic networks. As technology continues to advance, fiber optic equipment will adapt and evolve to meet the increasing demand for faster and more reliable communications.